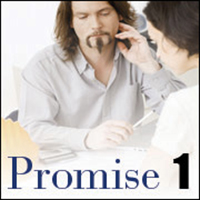 The Professionals at Room By Room will always put you first. We will work with you to figure out what makes the most sense for your situation. We will point out options and opportunities to help you achieve your goals. We will do everything in our power to help you complete a project that will benefit you.
My View
The key word in the first promise is "Listen." Listening seems to be a lost art these days. So many people, especially contractors, designers, and architects push what they want and do not listen to their clients. I cannot tell you how many times I have sat down with a potential client and have heard them voice their frustration that "no one is listening to what I want."
What gets lost, when people don't listen, is the ability to help you, the customer. We believe that it is our responsibility to do what is best for each one of our customers. We believe that spending the proper time listening to our customers allows us to help them achieve their desired goals, not ours. This is our commitment to you, we will listen.
If we fail to properly listen to our potential customer, chances are very strong that we will not be hired to complete their project. We Promise to listen to your needs and concerns.
Sincerely,
Tom Scanlon
President