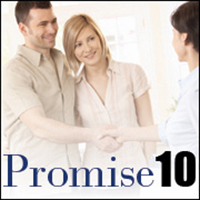 The Professionals at Room By Room understand that if we are going to be successful in today's market place we must deliver on what we say we are going to do. If we fail to live up to our word our promises are just cute little slogans with no meaning.
My View
Sometimes I feel that we live in a society that doesn't really "get it" any more. So many people seem unable to keep their word. People seem to feel that is "ok" to promise to do one thing and then just change their mind as they see fit. The total disregard for a promise is troubling and, in many ways, sad. In my opinion, if people stood by their words, commitments, and promises, there would be less issues and problems in our world.
In the business world alone, I see advertisements that promise unrealistic discounts as well as products that will forever change your life for the better. These ads guarantee this or that, but unfortunately, in many cases, I later read and/or hear how the company didn't stand behind anything it promised. The product was awful and didn't come close to living up to its promise that the ad had stated, it was all hype.
At Room By Room we promise to live up to EVERY ONE of our 10 promises. These are the core principles that will determine our success. It is very simple: if we fail to deliver on our promises, our business will not grow and we will not be in business. That is something that, I promise, will not happen.
We promise to always keep our promises!
Sincerely,
Tom Scanlon
President