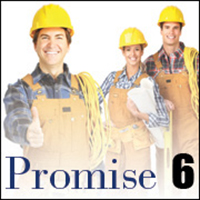 Room By Room promises to have properly trained and skilled Professionals work on your home. We promise never to use under qualified or untrained tradesman on any job. We promise we will not send any tradesman into unfamiliar territory to keep them busy. We promise to pay our tradesman fare and proper wage. We promise to charge our customers fairly and honestly for professional workmanship. We promise that we will be Professionals at all times. We promise that all of our work will be guaranteed.
My View
How many times have we heard this? "Our home is probably the single largest and most important investment that the majority of us will ever make". I always wondered why people who thoroughly investigate whether they are buying the right house, with strongest possible resale values, with the best school systems, parks, recreations facilities, police and fire departments, and local hospitals will hire the cheapest person they can to do work on their home? This never has made any sense to me. Sadly, I have seen homes ruined by work performed by under qualified and untrained contractors, handymen, friends of friends, and do it yourselfer's. This is why Room By Room has Promise number 6.
We promise to employ only the best professionals suited for the project.
Sincerely,
Tom Scanlon
President