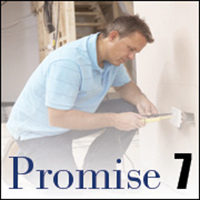 Room By Room will always use the best available products. We promise to offer our professional advise and guidance so our customers can make informed decisions. We will not use inferior products to boost our bottom line. We promise to explain why one product is better than another. We promise to help you spend your money wisely on quality products.
My View
How many times have you said or heard "If I only"? This is a question that so many people have asked themselves after they used the cheapest materials they could find and their project is a falling apart. As I have stated many times before you must look at the difference between "Price and Cost"; the "Price" is the one time expense that someone has when they buy the best possible products they can get. The "Cost," on the other hand, is going to be the long term expense for miscellaneous fixes, patches, repairs, and eventual replacement of inferior products. This is why we have promise number 7.
We promise to always use quality materials.
Sincerely,
Tom Scanlon
President