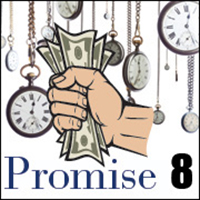 The Professionals at Room By Room will do everything in our power to make sure your project is completed in a realistic and timely manner. We will not change our price or do any extra work until there is an agreement on what needs to be added or changed, how much extra money that it will cost, and we have a signed change request form. We will never surprise you with a bill for extra money at that end of your project.
My View
Have you ever seen the movie "The Money Pit" staring Tom Hanks and Shelley Long? This 1986 comedy is about a young couple who struggles to repair a hopelessly dilapidated house that they want to rehab and renovate into their dream home. However, all they do is pour money into this bottomless pit, hence the name "The Money Pit". They also deal with a project that is totally out of control and goes on forever. Tom Hanks is told by his general contractor at the beginning of the project that it will take two weeks to complete the entire job. Needless to say, as the weeks drag on and on, he becomes more and more frustrated, until he reaches a point and yells out to the workers "When will you be done?" the entire crew laughs and tells him "TWO WEEKS". This is an on going joke throughout the movie. Unfortunately, this is the reality with many contractors.
The reason for the delay and cost over runs are simple: a lack of supervision and horrible communication. I believe and I know that the key to a successful renovation project is direct and strong involvement by your General Contractor throughout the entire project. So many General Contractors believe that once they sign a contract that their work is done, they leave the details to the workers, and move on to the next sale. At Room By Room we will never do this to our customers. We will see the entire project through from the start to the finish. I believe this is the reason for our strong success and the results show when we have countless returning customers who refer others because of our clear communication, guidance, and supervision.
If we do our job as good supervisors and communicators you can enjoy the movie "The Money Pit" and not live it. We Promise to do everything possible to complete your project on time and on budget.
Sincerely,
Tom Scanlon
President